Frequently Asked Questions
What is bluebot?

+
Consider it your new water assistant.

The bluebot is a clamp-on ultrasonic flow meter designed to monitor and track your water consumption and detect water leaks in real time from our iOS application.
Is my property compatible with bluebot?

+
Yes!

One of the most unique features of bluebot is that it's patented sensor design allows it to accurately and repeatably measure any Copper (Type M and L), PVC, Galvanized and PEX pipe size: 0.75", 1.0, 1.25", 1.75", 2.0".

Note: Larger size PVC up to 4" available, Consult Factory Request Quote

Since bluebot is compatible with all residential pipe types and sizes, you simply need to make sure you have access to your main water line to confirm compatibility in your property. This is more relevant to multi-family properties such as apartments, condos, etc.

To successfully install bluebot, you will want to locate a section of pipe with at least 4.5" of accessible straight pipe, longer is better.

The pipe must not have any obstructions like fittings or dirt. To learn more about picking good pipe for bluebot, we recommend this article.

If you would like to speak to a member of the bluebot team, simply navigate to Settings > Support from within the app and choose your preferred method of communication. Don't have the app yet? e-mail us directly: support@bluebot.com
How do I install it?

+
Simply clamp bluebot to the outside of your main water line.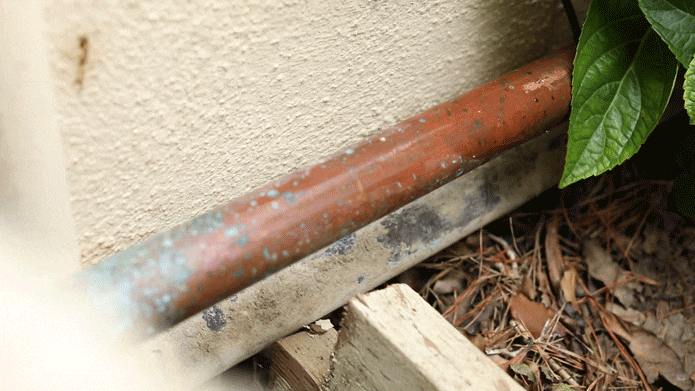 Are there hidden fees?

+
There are none!

Unlike the competitors, we don't require any plumbers, electricians, water shutoffs, or surprise subscription fees.

At some point in the future, bluebot will introduce additional, optional features with a small additional cost. We will never limit core functionality behind a paywall.

As a thank you to our early adopters, everyone who purchases their blubot before 1/30/21 will be grandfathered in to an exclusive Pro Lifetime Account which will get full access to all features (for life) with no additional fees. Ever.
Android + Web Apps

+
We are currently working on the Android and web versions of the bluebot water app. Our estimated launch date is Late 2021.

We deliberately focused on refining the iOS app to a level we confidently considered to be feature complete so we could then more efficiently deliver the same richness in data across every platform. Read more about our mission here. 
Easy To Use
Real Time & Historic Data
Capturing around 43,200 data points per day, bluebot captures live flow data and shows it in the app within just seconds, sometimes faster. See your water usage and patterns in unprecedented detail.
Custom Alerting & Leak Protection
Set alerts based on your monitoring preferences: flow over time, gallons, dollars, irrigation and more. Gain peace of mind knowing your property is protected from leaks no matter where you are.
Dollarize™ & Window In
Add your water bill to Dollarize your usage in the bluebot app. Most people relate usage to dollars, not gallons. Now it's easy to estimate your costs in real time, budget, and window-in on usage spikes.
Connect
Through the bluebot water app, bluebot connects seamlessly to your home's Wi-Fi network. No hub or bridge configuration required. The app offers two connection options for your convenience, from the comfort of your home, or directly at the installation location near your water line.
Clamp
The bluebot device can be placed on main line or irrigation, pool house, guest house, individual property units, and more. We recommend using bluebot on single family homes, townhouses, condos and apartments, small businesses, second homes – really, any property you can think of up to a 2" water line.
Configure
Take total control with the robust alerting and notification options within the bluebot app. Unlike other water meters that only notify you when they see fit, bluebot puts you in total control. Set alerts based on your monitoring preferences and leak detection. Add your water bill to get real-time usage cost estimates allowing you to stay on budget and reduce your water bill each month. Don't forget to share your device with other family members in your home so everyone can help save!
One Size Fits All
Unlike other water meters where the price goes up significantly based on pipe size, bluebot has been configured to work universally on all pipe sizes and types up to 2", Copper type L & M, PEX, PVC & Galvanized.
Indoors & Outdoors
The bluebot device can be placed indoors or outdoors. You should not dunk bluebot into a pool, but bluebot is water resistant so you can place it on outdoor water lines such as irrigation without worry.
Guaranteed Satisfaction
Customer service is our number one priority! Have problems or difficulties? We're here to help! Reach out to our customer support and we will gladly guide you through troubleshooting if you encounter any issues!